1. To provide the ARTIST with the highest quality products, services and best
economic value available in the professional recording industry.

2. To provide the ARTIST with a fairer and less-restrictive choice in managing their
performance and intellectual property rights.

AES LLC prides itself on offering a new and revolutionary concept in professional
production engagements - one that has the best interest and creative freedom
of the artists in mind.

The cornerstone of this concept is captured in the following three axioms:
1. The Author owns the work.
2. The Artist owns the performance.
3. AES LLC owns the recording.

The axioms above form the basic elements of our creative license agreement:
• The artist retains the right to control the commercial potential of the creative works.
• All original recordings and master tapes are the property of AES LLC.
• The artist may purchase copies of the AES LLC recordings at discounted pricing.
• Use of AES LLC recordings are by license agreement only.
• The artist has an option to buy the recording rights to AES LLC productions.
• AES LLC owns a Non-Exclusive License to market AES recordings.

Net proceeds from disc sales directly support not-for-profit parent companies which own
the performance content.

The chart below shows the AES approach and directive as compared to other industry players, including the so-called amateur and consumer "solutions".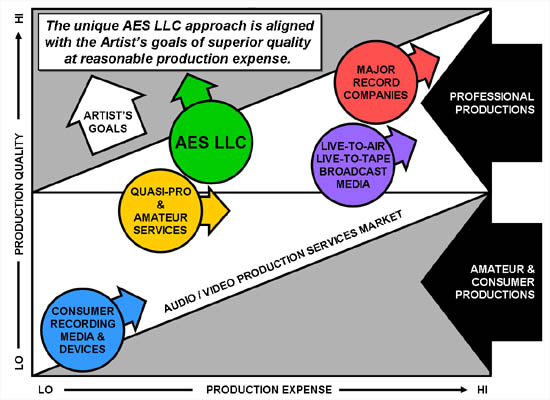 Contact us for more information.