AES LLC provides professional products and services
of the highest quality for the media arts industry.


Founded in 1999 by Gregory Davis, AES continues to pursue a unique
and unified three-fold growth strategy of:
• Product Sales
• Technical Engineering, and
• Creative Engineering.
Our offerings include:

• Technical engineering services
• Live broadcast support engineering
• PrismAudio test & measurement products
• DV-SafeBOX media storage products
• Live production support services
• Audio/Video recording, post-production, and mastering of CD, DVD,
and television broadcast media

Our mission and approach is:

1. To provide the ARTIST with the highest quality products, services
and best economic value available in the professional recording industry.

2. To provide the ARTIST with a fairer and less-restrictive choice in managing
their performance and intellectual property rights.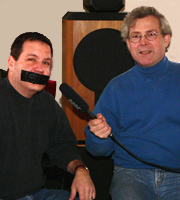 Gregory discusses the vagaries
of world politics with his
"silent" partner Vinnie.

Audio Engineering Services LLC
57 Squire Road
Roxbury, CT 06783 • USA
Tel/Fax: (860)355-4122
Email: AudioEngrSrvc@aol.com
Web: www.AES-CT.com